Referee Clinics
---
---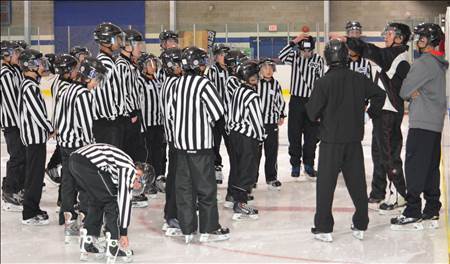 ---
Are you interested in being a referee? Our referee coordinator Austin Majeau has put together the following step by step process for new and existing Refs to register for a referee clinic. Feel free to contact Austin if you have any questions.
Here are the steps to follow to register:
Find information and the date and location of a clinic that you are able to attend here. Click Clinic Schedule 2017 at the bottom of the page.
Contact the clinic contact person by email or phone provided on the Clinic Schedule to see if there is room for you to attend.
New officials complete Step 4 and Step 5. Returning officials skip to Step 6.
If you are a new official, regardless of your age, you must first complete the Hockey University eLearning. The link is also on the Clinic Schedule page.
If you are a new official, you will need permission to attend a clinic in another community as we are not hosting a clinic this year. Contact Austin and he will get the required permission for the clinic you would like to attend.
You will get 2 links from the RIC/clinic contact person.

One link will be for the payment and verification code. Once your payment has been received the clinic contact will receive an email stating you have paid.
The second link is for registering to the clinic using Hockey Canada Registry (HCR). When registering online use your proper mailing address not legal land description. Each official will need their own email address when registering. Once that is completed the clinic contact will receive a second email stating you have completed the registration in HCR.

If you have troubles contact Austin. DO NOT ASSUME THE PAYMENT OR CLINIC REGISTRATION WENT THROUGH!!
You have completed the registration process.
NOTE: If you are a new official or returning level 1 official, you will need skates, helmet (preferably with a visor), a whistle (ACME Thunder or NHL fox 40 Super Force) and comfortable clothing as you will be on the ice for 1 to 1 1/2 ice slot.
Level 2 will have a on-ice session as well if they attend a rural clinic, any city clinic will not have an on-ice session.
Hockey Canada does not make this a simple process so again, if you have any questions please contact Austin at 780-242-5695.